Sunday, October 24, 2010
Thanks to
Tripp's mom
who allowed people to borrow this from her blog:)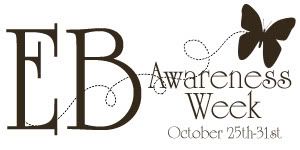 Posted by

Sara Denslaw
at 2:01 PM
No comments:
Links to this post

Thursday, October 21, 2010
Yesterday, thanks to modern technology, I was able to attend the memorial service for a sweet little baby named
Bella
. Sadly after a brave 16 month fight she lost her battle to EB due to complications from a bone marrow transplant. I, along with 600+ people from around the world tuned into her memorial service on-line thanks for a wonderful site called
Ustream
. My brother was the one who told me about this site and I passed the info along to Bella's parents and thankfully it all worked out! It was a honor to be able to be apart of such a beautiful service. Sadly this wasn't my first or even second EB Funeral I have been honored to attend...it was my 5th...and until there is a cure for EB, I know it won't be my last.
I had forgotten how much planning goes into planning a funeral or memorial service; about as much planning as it takes to plan a wedding! Flowers, what to wear, where to have the service, where to have a reception afterward, the food, who will take part in the service, etc... Except instead of celebrating a new life together, you are celebrating one that was cut way too short way too soon. It can be a bitter sweet moment. But the Ringgold's did a WONDERFUL job with every aspect of the service!
Now comes the tough part for the family, to pack up their things and head back home and try to get back to a life without Bella. I know how hard that will be; its been almost 6 year for us and there are some days I still wonder how we made it this far. I wish I had some words of wisdom or comfort to make that transition easier; but the process is different for every family and sometimes you just have to figure things out along the way, just taking one day at a time. Hopefully they will know that the entire EB family will still be here to support them along the way and they will always be members of the (ever expanding) EB community!
So Tim, Ang and Ali, thank you for sharing Bella's life and her journey though it with the world! She, like all EB babies, touched (and changed) so many lives!
I will leave you all with one of my favorite quotes appropriate for this situation:
"When someone you love becomes a memory, that memory becomes a treasure"
~author unknown
Posted by

Sara Denslaw
at 10:06 AM
No comments:
Links to this post

Tuesday, October 12, 2010
Heaven has a new butterfly angel...Bella Ringgold, age 1 year 4 months and 15 days, got her wings yesterday after braving enduring a bone marrow transplant to try and save her life.
You can read her journey
here
Posted by

Sara Denslaw
at 9:49 AM
No comments:
Links to this post